Neck Pain
8 All Natural, Non-Surgical Neck Pain Relief Therapy's
Dr. Greg Hollstrom Largo chiropractor, Explains How to Relieve Neck Pain
Common Causes of Neck Pain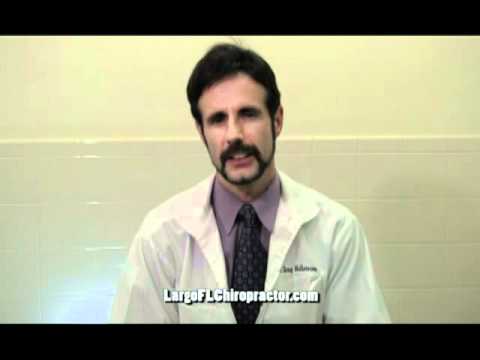 Not all neck pain is the same. There are many structures in the neck that act as pain generators. Without know what those structures are and how they relate to one another it makes it very difficult to design a treatment strategy getting at the root of the problem.
Neck pain generators can consist of muscle, joint, ligament, nerve and disc.
The solutions to dealing with neck pain will be different based on the original cause of neck pain. Healing times, response to care will all be a little different depending on the source.
Once you know what the pain generators are it makes it that much easier to treat the patient and the outcomes more successful.
How Chiropractic Spinal Manipulation Helps to Relieve Neck Pain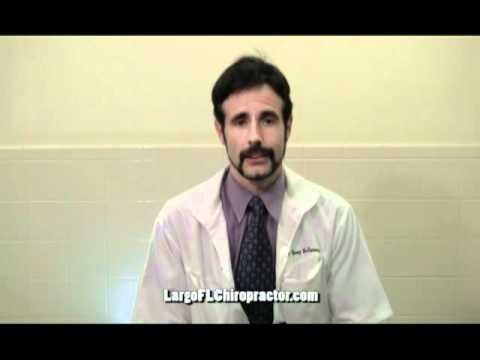 One of the strategies we use here at the Florida Center for Back and Neck pain is chiropractic spinal manipulation. Spinal manipulation can significantly reduce neck related pain.
By gently moving the bones in the neck we can aid in the relief of neck pain.
First, spinal manipulation helps to separate and open any disc related pressure.
Second, spinal manipulation can open and nerve channel that is pinching a spinal nerve.
Third, spinal manipulation can restore and thereby relieve neck pain that is a result of spinal joint irritation or compaction.
If your neck pain is resulting from the disc, joint, or nerve in the neck chances are gentle chiropractic spinal manipulation can help relieve your pain.
Electrical Nerve and Muscle Stimulation Helps Relieve Neck Pain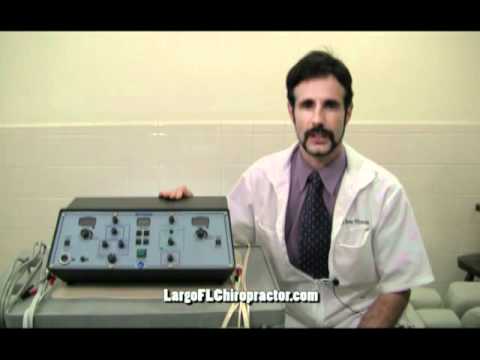 Electrical muscle stimulation is a form of therapy which can be very helpful in treating neck pain.
Nerve and muscle stimulation is a type of muscle stimulation that is very soft and comfortable. It activates large muscle fibers which help reduce pain and congestion.
When you reduce pain and congestion you reduce muscle spasm.
Thereby reducing stiffness and aids in healing injuries involving the neck.
How Ultrasound Therapy Relieves Neck Pain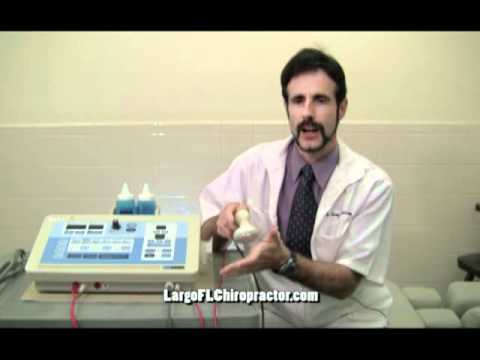 Ultrasound is a common strategy's we use here at the Florida Center for Back and Neck pain.
Ultrasound is high speed sound waves. As electricity passes through transducer head it causes it to transferred into high frequency sound waves.
The vibration of the sound waves deep into the tissue aids in pushing out swelling in neck tissue.
The sound wave vibration will also produce a deep heat which in turn increase the blood flow to the injured neck tissue. Increased blood flow aids to a speedy recovery to the injured tissue of the neck.
Interferrential Current Therapy Acts to Block Neck Pain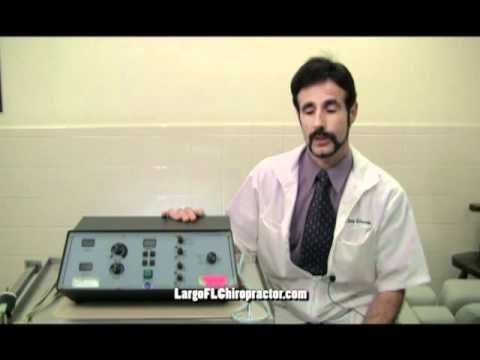 Interferrential current is very helpful in treating neck pain and neck pain related syndromes because it acts as a natural nerve block.
On occasion we use interferrential current for painful neck conditions to aid in the reduction of pain.
Traction Helps Relieve Neck Pain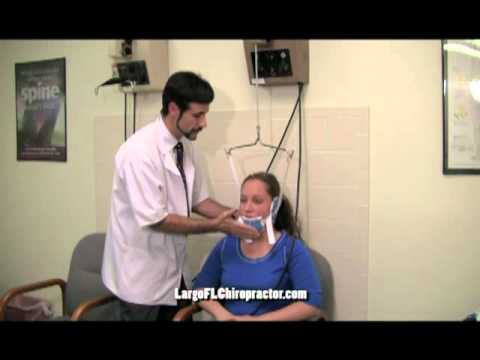 Mechanized cervical traction is one of the tools we use to help combat neck pain.
Traction is very helpful for conditions in which the disc in the neck is very thin and put pressure on the spinal nerve and cause joint irritation and pain in the neck and neck stiffness.
The ways neck traction works is a harness is placed on the head with one strap just under the chin and the other at the base of the skull. A gentle traction pull helps open up nerve tunnels and take away pressure on the nerve.
Spinal Decompression for Relief of Disc Injuries in the Neck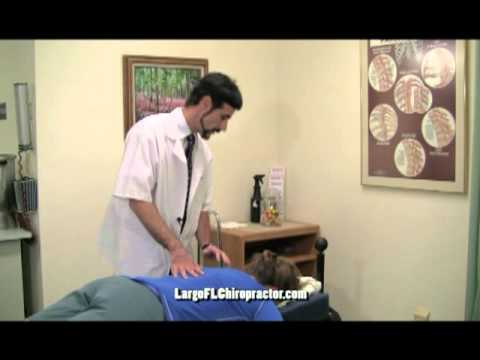 Spinal axial decompression helps relieve neck pain.
Spinal axial decompression therapy of the neck is very good for helping to relieve neck pain associated with neck injuries, thin discs and osteoarthritis. It can also be very helpful in the treatment of spinal stenosis or narrowing of the spinal canal.
Spinal axial decompression generally feels very relieving and comfortable to the patients.
Axial spinal decompression can be used in several ways. We can lightly distract the bones of the neck to relieve nerve or disc related pressure. By applying a soft pumping action axial decompression helps to increase the nutrition to the disc and open the nerve canal whereby relieving neck pain.
Intersegmental Traction Improves Neck Flexibilty and Mobility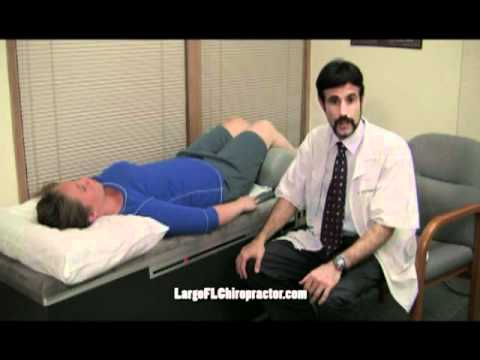 Intersegmental traction is another form of therapy used here at the Florida Center for Back and Neck pain.
Intersegmental traction therapy is used to help relieve neck pain that originates from the joints and disc of the neck.
Intersegmental traction is a type of roller therapy and as the rollers travel over the neck they gently lift and slightly separate the joints and disc space in the neck. In doing so this helps to promote flexibility in the neck, reduce muscle spasm and associated pain.
Intersegmental traction is very comfortable and once patients experience the therapy they frequently ask for the treatment again.
How we can Help Whiplash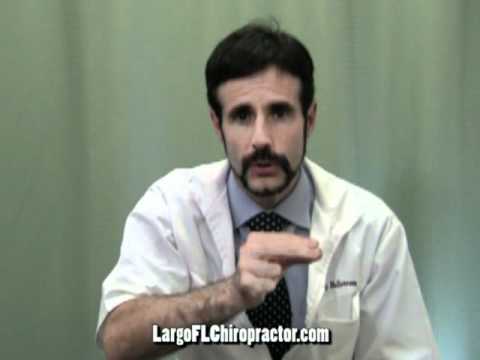 In a whiplash injury generally there is injury to the connective tissue, sometimes the joint and sometimes it can cause fracture of the bone. A good physical examination is imperative to determine what is causing the pain of whiplash.
The pain of a whiplash injury commonly comes from ligament damage, capsular joint irritation and disc injury.
Depending on the injured tissue some of the therapy's in the beginning stage of treatment involve cold therapy, light soft tissue massage, electric current therapy to help reduce pain and muscle spasm. On occasion we may use ultrasound therapy to push out the inflammation.
Later therapy's include spinal joint mobilization to aid in the restoration of normal joint motion.
In the event the disc is involved we can use spinal axial decompression.
Spinal decompression helps to relieve neck pain as a result of a bulging or herniated disc in the neck.
As the pain diminishes the goal is to increase the strength of the neck muscles which significantly reduce the likely hood of neck pain recurrence.
Over the years I have found patients with whiplash injury response very well to these forms of therapy and leave satisfied with their outcome.
Neck Rehabilitation Helps Strengthen and Stabilize the Neck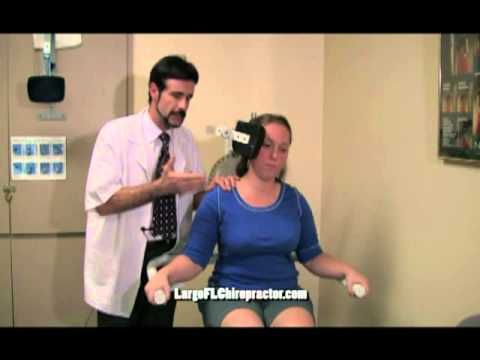 Once the pain of neck injuries lesson we use a form of neck exercise to help strengthen the neck muscles. We will also use rehabilitation in increase neck stability.
When we don't take time to strengthen the spinal injuries we lessen the chance of fixing the problem.
Susan Share's her Experience with Dr. Hollstroms and Staff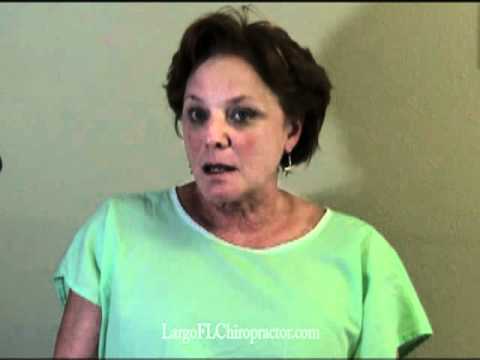 "I would recommend to come as soon as they can it would be more helpful than to let it go for any length of time"
Greta Share's her Experience with Dr. Hollstrom and Staff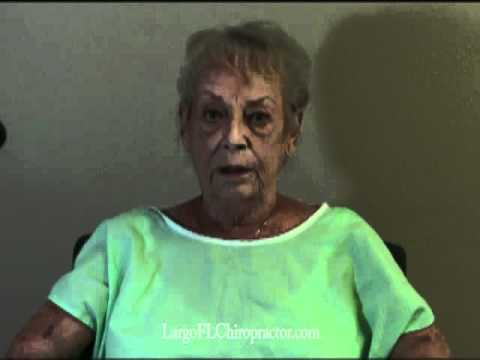 "The staff is wonderful, they take care of all my insurance and billing issues, I don't have to do a thing"
Sues' Shares her Experience with Dr. Hollstrom and Staff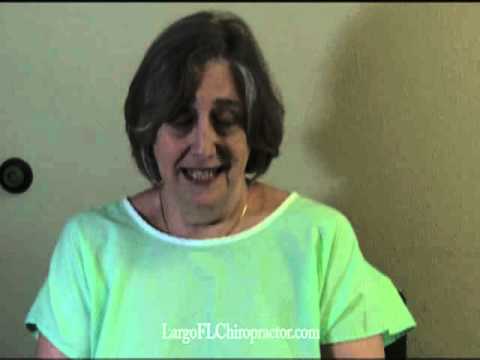 "If I have a problem with something he'll take extra time to listen and work with it"
Personal Message from Dr. Greg Hollstrom:
"If you suffering and in pain we'd like to help you.
I'm Dr. Greg Hollstrom from the Florida Center for Back and Neck pain. For over three generations myself, father and grandfather, have successfully treated patients suffering from back pain, neck pain and headaches.
We have many treatment options to relieve your pain including therapy's such as:
Chiropractic spinal manipulation,
Ultrasound, electrical muscle stimulation,
Interferrential current and
Spinal and joint rehabilitation.
Our goal is to stop your pain, restore your function and get you back in the game of life.
Let us help you get back to living your activities pain free.
We believe we can help get rid of your pain if you just give us a chance. And if we can't you can depend on us to refer you to the proper specialist and we work with many in the area.
Either way were here to help you.
So go ahead and pick up the phone and give us a call right now at (727) 393-6100.
We look forward to helping you."
To be seen today call (727) 393-6100